The mooshkz! It's been a hot minute since I updated here. I have been posting longer entries to my Patreon, which seems to fluctuate between 4-12 members. I also have been moving older Patreon posts to The Archives, because I couldn't bring myself to delete them. But I have to keep moving content out of the main feed, or it's unfair to the members who pay a fee every month. Right now there are some vintage, discontinued Femdom hypnosis files in the feed, so get to those before I move them to The Archives. Or wait, and pay more later.
If you haven't noticed, I opened a store on iWantClips. So far, just uploading my erotic files here and there has lead to some additional income. I notice some names from my Niteflirt customer list on there. So far I like being on IWC enough to promote it a bit. I don't like that they pay out 65% for daily direct deposit, whereas NF pays out 70%. IWC also has some cute af promotional widgets, but they don't seem to work quite properly, so I haven't used them. IWC also needs an affiliate program for "models" who bring in new customers. They have one to bring in more models, but that's it so far. They also have a phone feature, which is currently in beta testing. It inspired me to bring back the concept of an ignore line. I might make another ignore line for Niteflirt, again. Because why not get paid for just continuing to do whatever the fuck I'm doing while you diddle.
Speaking of beta testing, you might have noticed Niteflirt's new "chat" feature. I've been waiting for this, and was thrilled to learn it's finally a thing. However, there is a really low, set price per "volley," that we aren't yet able to raise. At this time, I find the chat worthwhile for setting up Femdom phone sessions, getting the customer to buy files and tribute, or to have conversations with submissives with whom I already have some history. I am sure as heck not going to text trance or do any type of session that requires me to summon all my Goddess energy for the current set price. NF might allow us to set our own cost-per-volley in the future, but it doesn't look like it will happen any time soon. Waiting is.
I'm still not quite sure what my next project will be. It's definitely about time for a new an audio or video file, but I am unclear on topic matter. I love doing femdom hypnosis, but you guys might know about the stupid deal with the credit card companies, and how we can't even use the word "hypnosis" on most sites that accept payment for material. So I do what I can with the approved terminology, although even those words are being witch-hunted (such as "mind control"). If you want erotic hypnosis nowadays, you might be better off searching for "mesmerize," "mental domination," "erotic magic," "brainwashing," "mind fuck," or "trance." I remember being on a payment platform I no longer use, and they even had to edit the word "trance" to "tr4nce." I swear, it's so ridic.
So what will my next project be? I have to find out. Should it be a new lipstick fetish clip? As far as erotic audio goes, the topics I've done least recently include tease and denial and general fetish. Can you think of a fetish topic I haven't yet explored, that you'd like me to? Answer my questions via twitter or e-mail.
Anyway, as per usual, I am most active on twitter, so follow me there, as well as on instagram, where I am somewhat active. Think correctly like good boyz and gurlz, and you'll make me smile. Which I know you like.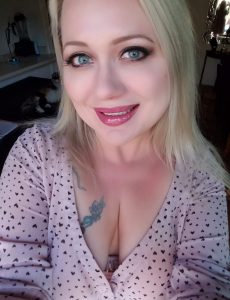 *kissies*