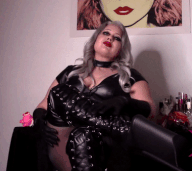 Leather Bitch Brainwash
In this Femdom brainwashing video, Goddess Lycia transforms you into a helpless lump of highly pliable slave mush with her thigh-high leather boots and leather gloves. As you are visually mesmerized by the erotic eminence of her shapely legs and painfully sexy fetish boots, you are brainwashed by audible and subliminal messages which cause you to feel more inferior and servile, and to see Goddess as more superior and powerful than ever before.
After just one run through this boot fetish clip, you will be baffled as to how you didn't realize sooner how immensely Goddess Lycia dominates your sexuality. Or maybe you did realize, but needed to be reminded of just how completely she controls your slut parts. This Femdom session will make you desperate to get on the floor and bow before Goddess Lycia's leather boots, knowing fully that while you are so very sexually aroused, you are certainly incapable of cumming without her permission.
Includes: Femdom brainwashing, slave training, mental conditioning, orgasm denial, chastity training, leather fetish, leather boots, high heeled boots, leather gloves, boot worship, Goddess worship, humiliation
17+ mins for $19.99
Purchase through: